If there's one thing for which Ireland – north and south – is renowned, it's a determined, unflappable sense of humour. As Ireland recovers from the effects of Ophelia, and as Northern Ireland ponders some serious questions exposed by the storm, we wanted to recognise some of the stoical humour that made people smile on an otherwise unsettling day.
Here are 10 of the tweets that exemplified a very Irish approach to dealing with difficult times.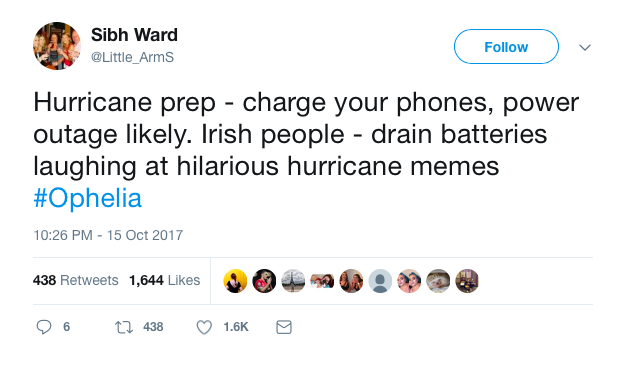 The Dublin Fire Brigade were quick to appreciate the benefits of tapping into humour as a way of grabbing people's attention on the likely seriousness of Ophelia's impact: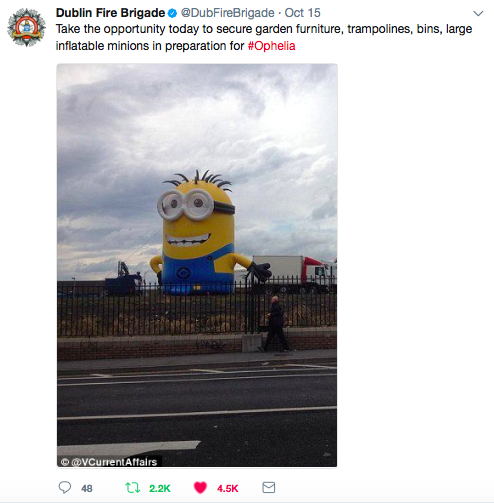 Parents will have been relieved that their children didn't have to make a potentially hazardous journey to and from school, but one Galway pub couldn't resist having a poke at some of the others getting a day off: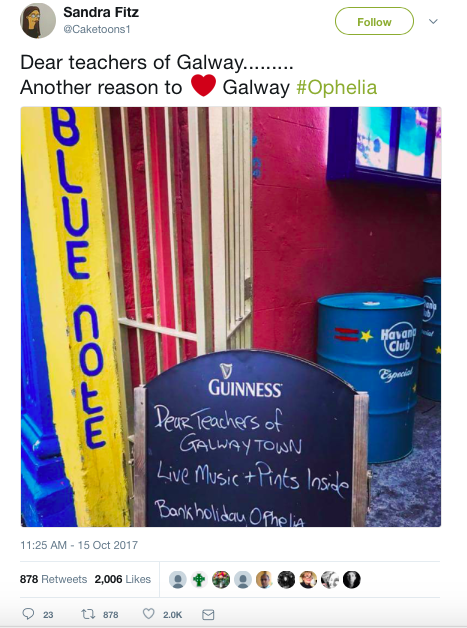 Over in Dundalk, we wonder if Andrew Maddy managed to get his lie in: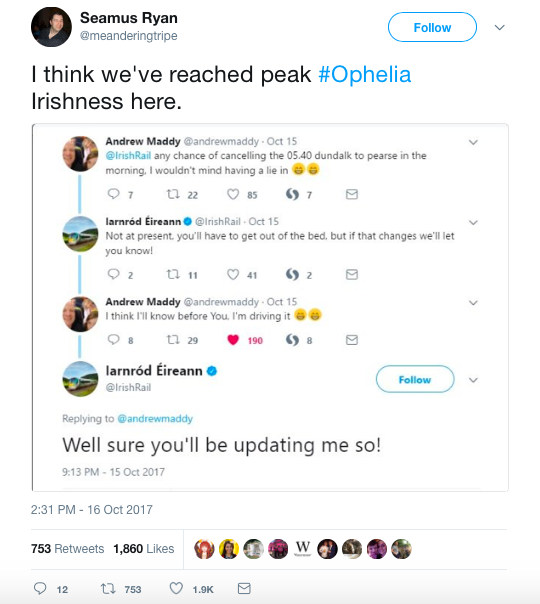 The BBC's Mark Simpson always loves a metaphor in his reports. He was quick to pick up on the symbolism of this outage in BT4: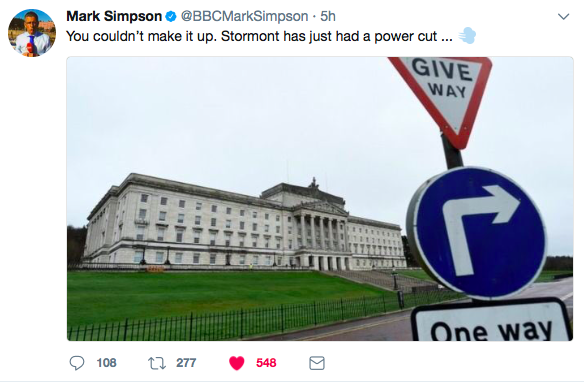 Ophelia raised a number of questions on the different warnings in place across Ireland. Charles Crowley had this explanation: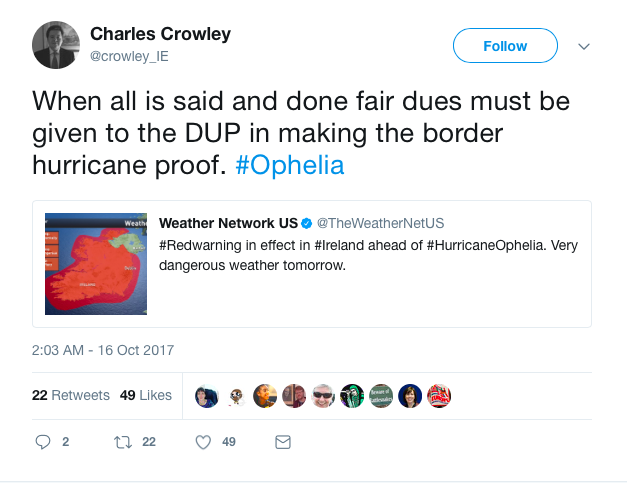 Poor Larne is used to getting a hard time, rain or shine. Yesterday was no exception.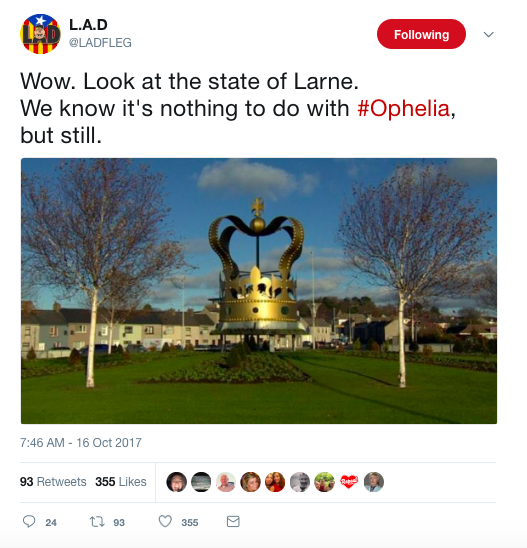 Some people interpreted 'emergency supplies' with a distinctly Irish flavour: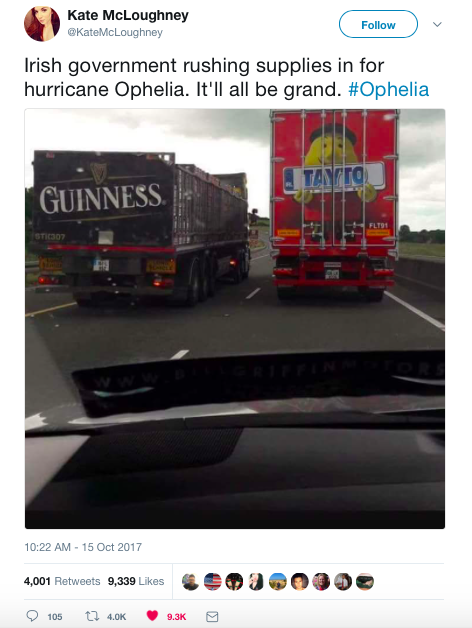 With a Saharan dust infused sky over Great Britain, Kyle Malone speculated that Ireland might have a different approach to yesterday's apocalyptic atmosphere: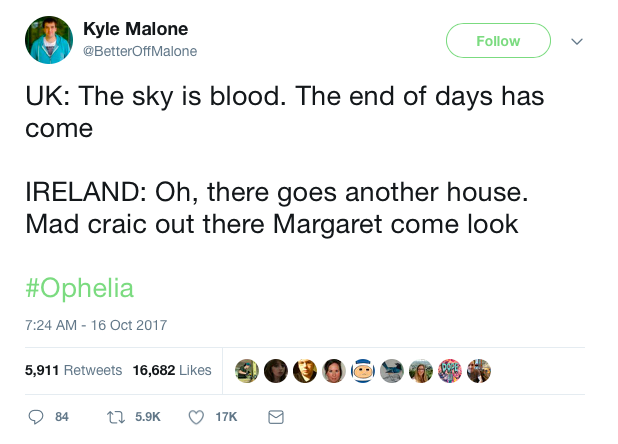 And, finally, you might have seen a few trampolines blowing astray. But what else might have arrived in your back garden?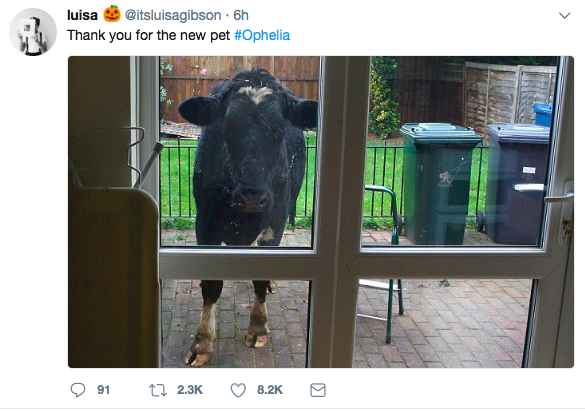 We hoped you've appreciated these as much as we did. If you have any contenders of your own, please send us your suggestions.